VTH Recheck Shows Signs of Recovery for Police K9 Shot in Line of Duty
February 24, 2017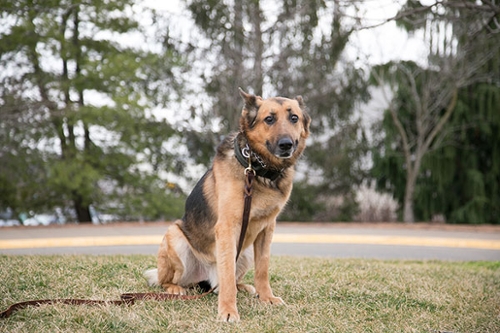 Prior to his recheck appointment at Lynn Hall February 21, K9 Blade sits for a spell on a grassy area adjacent to the Small Animal Hospital entrance.
K9 Blade returned to Purdue Veterinary Medicine's Veterinary Teaching Hospital from Lake County, Indiana, this week for a recheck after surgery four weeks ago to repair his lower left jaw, which was fractured during a police-action shooting. A member of the Lake County Sheriff's Department, K9 Blade was shot in the face by a suspect who fled from police during a traffic stop in Gary, Ind., January 18. After initial treatment at a local veterinary clinic, the six-year-old German Shepherd was rushed to the VTH's Animal Emergency Service, where the bullet fragments were removed, his wounds were cleaned and he was stabilized in preparation for surgery.
"The bullet entered from the top of his muzzle and went through his upper jaw, damaging some teeth and bones before fracturing his lower left jaw and lodging in his cheek pouch," said Dr. Sarah Malek, assistant professor of small animal orthopedic surgery. Dr. Malek was part of the team of clinicians, residents, interns, staff and students who came to the K9 officer's aid. "The following day, we took him to surgery and the main injury that required surgical stabilization was his left mandible fracture, which was successfully repaired with two bone plates and screws," Dr. Malek explained. "He recovered very well after surgery and we were very happy with the post-operative radiographs." After several days of hospitalization, Blade was discharged to the care of his sheriff's department handler.
In the intervening weeks, Dr. Malek and her team kept in touch with the handler to monitor Blade's condition. "All his incisions were coming along great and then this week we were able to see him for his first set of recheck radiographs," Dr. Malek said. "A physical exam showed that all his skin incisions had healed very nicely and his hair already is growing back. His radiographs also showed appropriate healing of the left lower jaw fracture and no problems with the implants."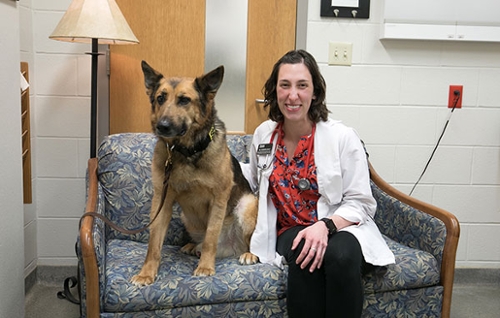 K9 Blade with Dr. Katheryn Cooley, VTH small animal medicine and surgery rotating intern.
Dr. Malek said that the healing process is ongoing, as it only has been four weeks since the surgery. "The healing is progressing as we would expect. We will see him back in four weeks to repeat those radiographs and if at that time things are fully healed and there are no further issues, the next step would be to make an appointment for a dental exam to look at the teeth that were damaged as part of the injury." In the meantime, Dr. Malek said Blade seems to be back to his good old self. "He's obviously a trained police dog but he's a very sweet dog and was an excellent patient while he was in our hospital," Dr. Malek said. "We didn't have any issues handling him while he was with us. It's very nice to be able to provide service to a K9 officer who needed help due to his injuries in the line of duty."
Meanwhile, Blade's handler, who has returned to work with the sheriff's department, said Blade rides with him during the day but has not returned to active duty. Several media outlets locally and in Indianapolis, northwest Indiana and even Chicago have reported on Blade being shot in the line of duty and his surgery at the VTH. Chicago's ABC 7 Eyewitness News also posted a picture on its website that was taken by PVM's Seth Bossingham this week of Blade in Lynn Hall. Additionally, a GoFundMe site was established by the Lake County K9 Association to raise funds to help with Blade's care. The $20,000 goal was exceeded after just four days.
Writer: Kevin Doerr, pvmnews@purdue.edu