Pets for People Welcomes New Therapy Teams
December 15, 2017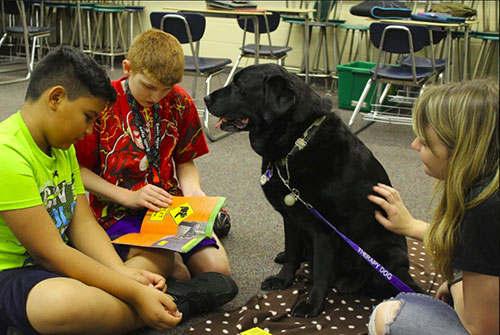 Big Daisy (Lab Dog Class of 2016) and Leslie Lundewall, along with several other Pets for People teams, visited Wainright Middle School in Lafayette during the fall semester to participate in a program in which the schoolchildren read to the animals.
Submitted by Mallory Stuckwisch, of the DVM Class of 2019 and Pets for People President
Purdue Veterinary Medicine's Pets for People club held its annual therapy animal team evaluations November 18 for those wishing to register their personal pets as therapy animals via the national organization Pet Partners. This year, the club had eight teams up for evaluation, and all eight successfully passed! They now will be joining the club's other teams as they volunteer at libraries, nursing homes, schools, and more. Congratulations to these students on the training and dedication they put into the process:
DVM Class of 2019:
Lindsy Power and Luna
Louay Masri and RoRo
Micah Rollie and Patsy
DVM Class of 2020:
Emily Christenson and Sadie
Andrea Grasso and George
Jesse Whitfield and Hudson
DVM Class of 2021:
Sarah Stram and Miller
Emma Levendoski and Tala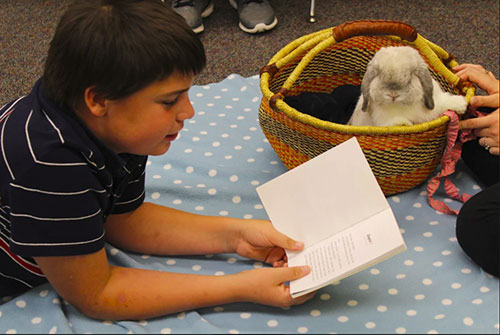 Eoghan the Bunny (with Mallory Stuckwisch) listens as a Wainwright Middle School student reads.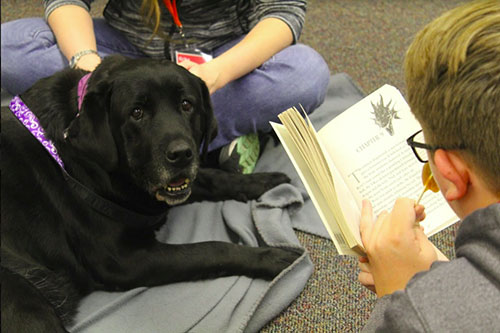 A Wainright Middle School student reads to Vera (Lab Dog Class of 2016) with Erika Anderson.
Writer: Mallory Stuckwisch, of the DVM Class of 2019 and Pets for People President, pvmnews@purdue.edu