Dean's Column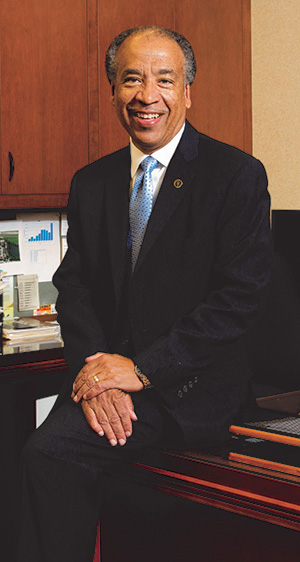 "Talk is cheap," people say. And it's true. That's why at the Purdue University College of Veterinary Medicine, we measure progress in terms of value and action. In that light, the past year has proven to be both exciting and noteworthy.
As explained in our cover story of this annual report issue of our PVM Report publication, we now have the green light and definitive plans for a new equine hospital. Years of thoughtful consideration concerning the future of our College and the vital need to upgrade our large animal hospital facilities led to Purdue Board of Trustees approval for this $35 million project. We are excited as we anticipate groundbreaking in 2018 for this first phase in a planned multiple phase improvement of our Veterinary Teaching Hospital. As you read about this project, I hope you will gain an appreciation for the importance of this milestone and be encouraged about this example of moving from discussion to action for the betterment of veterinary medical education and service to animal owners across Indiana and the Midwest.
This exciting development comes on the heels of another major step forward that our College took in April when we held the dedication ceremony for our new Centaur Equine Specialty Hospital in Shelbyville, Ind. A state-of-the-art resource for Indiana's equine industry, this hospital is off to a very successful start, providing extraordinary medical treatment that is focused on, but not limited to, performance horses. The Centaur Equine Specialty Hospital is an excellent complement to the large animal hospital services we provide on the Purdue campus in West Lafayette.
Another need requiring strong action both in our College and the veterinary medical profession involves diversity and inclusion and I am especially pleased and proud of the leadership role our College is taking in moving from talk to action. Our outstanding team of faculty and staff have developed a suite of innovative programs that are beginning to make tangible and measurable differences in the diversity within our College, which is instrumental to increasing diversity in the veterinary medical profession. These creative initiatives are reaching children in the earliest elementary school grades with positive, relevant, and exciting messages about the veterinary medical profession, while also providing a better foundation for the success of underrepresented minority students interested in earning the Doctor of Veterinary Medicine degree and entering the profession of veterinary medicine. Already we are seeing results as the percentage of underrepresented minority students in our incoming classes continues to climb.
Additionally, we are gaining national recognition for our efforts in diversity and inclusion, most recently by virtue of being named a recipient of the 2017 Health Professions Higher Education Excellence in Diversity (HEED) Award from INSIGHT Into Diversity magazine, the oldest and largest diversity-focused publication in higher education. I trust our story about that award will fill you, as it does me, with real pride in Purdue Veterinary Medicine.
I also am proud of our alumni and friends who have taken action as part of Purdue University's Ever True Campaign by generously giving to our goals for student support, faculty support, programs, facilities, and unrestricted funds to meet our areas of greatest need. The fiscal year that ended June 30 was record breaking for Purdue Veterinary Medicine, with a total of nearly $8.6 million contributed, bringing us to 93% of our Ever True Campaign goal of $40 million. It is with deep appreciation that we include our Donor Honor Roll in this annual report issue, to help us say thank you. Without your help as generous supporters, our success would not be possible.
As we look forward with enthusiasm to the coming year, these are but a few of the reasons for our growing excitement about the future of the Purdue University College of Veterinary Medicine.
Willie M. Reed, DVM, PhD
Dean, College of Veterinary Medicine
---
This story is part of the 2017 Annual PVM Report.