About the Purdue University Veterinary Hospital
Welcome to the Purdue University Veterinary Hospital. 
We are honored that you and your referring veterinarian have trusted us to be your animal's healthcare provider, whether that be as a new, or a returning patient.
Our mission is several fold: to provide excellent and compassionate care to all animals entrusted to us; to provide an exceptional learning environment for students, residents, interns, and other professionals; to promote engagement through the free exchange of information and the sharing of knowledge within the Hospital and with our constituents, including individual animal owners, producers, referring veterinarians, other institutions and collaborators, the general public, and the biomedical community; and to contribute to the discovery of new knowledge through basic and applied research and clinical trials.
Hospital Administration
Ellen Lowery, DVM, PhD, MBA
Associate Dean for Hospital Operations, Chief Veterinary Officer, and Clinical Professor
Donald (Joey) Woodyard
Hospital Administrator
Nolie K. Parnell, DVM, DACVIM
Chief of Staff, Small Animal Hospital
Clinical Associate Professor, Small Animal Internal Medicine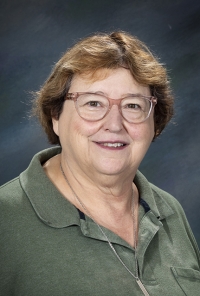 Janice E. Kritchevsky
Chief of Staff, Large Animal Hospital
Professor, Large Animal Internal Medicine
A Message From Our Leadership Team
Welcome to the Purdue University Veterinary Hospital.  As a center of excellence in veterinary medicine, the dedicated and passionate team at the Veterinary Hospital is committed to providing the best possible care for your animals.  In every case, we are respectful of the trust placed in our hospital by the clients and referring veterinarians.  The Veterinary Hospital is committed to excellent patient care, strong communication and a professional client experience with every visit. You can be assured that when your companion or production animal is at the hospital , it is receiving the best care possible.
The Veterinary Hospital consists of an Equine, Farm Animal, & Small Animal hospitals along with field services for bovine, equine, and swine. The majority of our 60 veterinarians are board certified specialists with representation across nearly every discipline. An extensive group of nurses, support staff, researchers, and educators are part of the team supporting the needs of all patients and clients.  As the management team, we are proud to work with such a committed and caring team.
Our specialists are also committed to advancing the veterinary profession through research. In addition to providing patient care, many clinicians have active clinical research programs. Our specialists collaborate with an extensive group of researchers at the Purdue University College of Veterinary Medicine all committed to advancing global animal and human health and well-being.
As a teaching hospital, we embrace our role in shaping the future of veterinary medicine through clinical teaching and education of veterinary professionals. In our hospital, we use the latest technology and knowledge to provide excellence in animal care and wellbeing, along with a positive client experience.
The Veterinary Hospital operates as a fee-for-service-enterprise and is dependent on fees for the hospital operating budget and its continual investment in equipment and technology. Only through your support can we continue to offer the highest level of patient care and clinical training. Once again, thank you for placing your trust in us and we look forward to hearing from you about your client experience at our hospital.
History
The Purdue University Veterinary Hospital was opened in 1959 as part of the establishment of the College of Veterinary Medicine, to provide a clinical setting for the training of veterinary medicine students, veterinary nursing students, interns, and residents as they pursue specialty areas within veterinary medicine. In order to provide an adequate caseload to facilitate such training, the hospital sought the referral of the more complicated cases from private practice veterinarians throughout the State of Indiana, as well as our neighboring states.
As a teaching institution, board certified and board eligible professionals were recruited to provide the best instructors for our students, as well as the best doctors for our referred patients. State of the art equipment was added to our facility as new medical innovations were developed so that we could continue our mission to train future veterinarians while providing superb medical care.
Through the years, our Small Animal Primary Care & Bovine, Equine, & Swine Field Services were added for equine, farm animal, and small animal patients in Greater Lafayette and the surrounding areas. The mission of the these services is to provide not only primary wellness care of local pets/animals but to also provide our students with the opportunity to be educated in this field of veterinary medicine as well.