2021 CAWS Virtual Symposium
May 19-20, 2021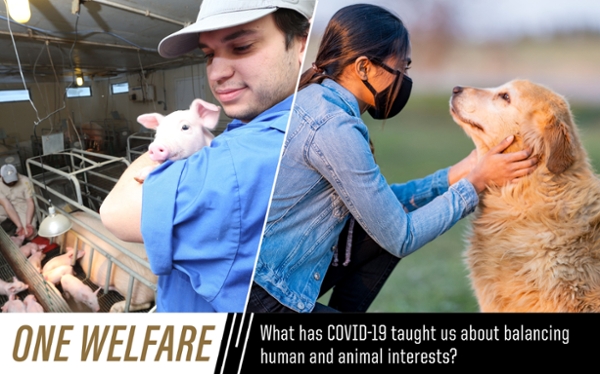 Jennifer Applebaum, University of Florida; Cynthia Otto, University of Pennsylvania; Roger Haston, The Institute of Animals; Heather Fowler, National Pork Board; Jayson Lusk, Purdue University 
2021 CAWS Virtual Symposium - College of Veterinary Medicine - Purdue University
CAWS Spring Seminar Series 2019
October 29, 2019 - CAWS Seminar
"Challenges and Advances in Poultry Welfare"
Speaker – Dr. Marisa Erasmus
Location – CRTN 1042
Time – 4:00 pm - 5:00 pm
Worldwide, the production and industrialization of poultry meat and eggs are increasing to meet the continually growing global demand for food. Concurrently, there is increased focus on agricultural sustainability and increasing public interest in animal welfare. Public interest has, in part, lead to changes in poultry housing and management, which impact agricultural sustainability and animal welfare. The resulting changes in housing and management lead to both poultry welfare challenges and opportunities. Some of these challenges, such as heat stress and disease are not new, but are becoming increasingly problematic as world production and climate change, while other challenges related to evolving housing systems, such as parasites and abnormal behavior, present new management challenges.  Recent advances in technology and animal welfare science show great promise for monitoring and identifying poultry welfare challenges. In this presentation, the main welfare issues of poultry will be discussed as well as examples of how current research is addressing these issues using various technological approaches. Implications for the future of poultry welfare will also be discussed.
May 15-16, 2019 - CAWS Symposium
"Unlocking the Difference: Increasing Access and Building Capacity to Ensure Innovative Solutions to Emerging Animal Well-Being Challenges"
Location – The Courtyard Marriott in Lafayette, IN
February 20th, 2019 - Consumer Demand for Poultry Products with Animal Welfare Labels
Dr. Jayson Lusk, Agricultural Economics, Purdue University
Location/time – CRTN 1042, 4-5:30pm
March 6th, 2019 - Through Rose-Colored Glasses: How Perception Shapes Evaluation of Wellbeing
Dr. Debra Hickman, IU School of Medicine, Indianapolis, IN
Location/time – Lynn G167, 4-5:30pm
March 20th, 2019 - The Science Behind Human-Animal Bonds
Dr. Monique Udell, Oregon State University, Corvallis, OR
Location/time – Lynn G167, 4-5:30pm
April 10th, 2019 - Staying Good While Playing God - Ethics of Farm Animal Breeding
Dr. Peter Sandoe, University of Copenhagen, Denmark
Location/time – CRTN 1042, 4-5:30pm
April 11th, 2019 - Developments and Tensions in the Idea of Animal Welfare
Dr. Peter Sandoe, University of Copenhagen, Denmark
Location/time – MJIS 1001, 3:30-5pm
Presented by Purdue Lectures in Ethics, Policy, and Science
CAWS Past Seminar Series 2018
September 26th, 2018 – Human Contact and Animal Welfare
Dr. Paul Hemsworth, University of Melbourne, Australia
Location/time – CRTN 1042, 4-5:30pm
October 3rd, 2018 – The Why and How of Assessing Pain and Suffering in Animals 
Dr. Dan Weary, University of British Columbia, Canada
Location/time – CRTN 1042, 4-5:30pm
November 7th, 2018 – Engineering Approaches to Solving Animal Welfare Issues
Dr. Angela Green-Miller, University of Illinois at Urbana-Champaign, IL

Location/time – CRTN 1042, 4-5:30pm
December 5th, 2018 – Advancements in Swine Welfare
Dr. Monique Pairis-Garcia, The Ohio State University, Columbus, OH
Location/time – CRTN 1042, 4-5:30pm